Antenno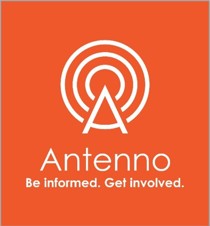 Antenno's a free mobile app that sends you Council-related notifications about the places you care about, including alerts, major water outages, roadworks, closures, Council events, rates and registration reminders, consultations and more.
You choose the places you want to be alerted about, so we're not bothering you with things that don't affect you. This might include your neighbourhood, workplace or where your kids go to school. It's up to you! You can also opt out of topics that don't interest to you.
Antenno sends information directly to your mobile phone.
For urgent reports outside of working hours (8am–5pm, Monday to Friday), please call us so we can respond immediately. Otherwise, your Antenno report will be processed on the next business day.
Alerting us about something
Antenno's also a fast easy way to let us know about Council-related issues, for example graffiti that needs to be removed from a public place, or a tree that's fallen and is blocking a road. Just go to the app and add to 'Your reports' – the app will prompt you for the info we need.
Check out our video on how you can make a report using Antenno. 
Download Antenno 
Antenno is free for all customers – download it from the App Store or get it on Google Play now. It doesn't ask for any personal information or login details, so it's a nice easy way to stay informed. 
How to add places
Antenno works by sending notifications to your saved 'places'. Your places could be your home, your children's school or your local sports field. We recommend adding all places of interest to ensure you are receiving all notifications for things that you may be interested in or things that might affect your neighbourhood.
In the video below, Parks Officer Mark will show you how to add something to your places.
Questions and answers